Aaron Stocum
Home DZ:
Skydive City (Z Hills)
Nationality:
United States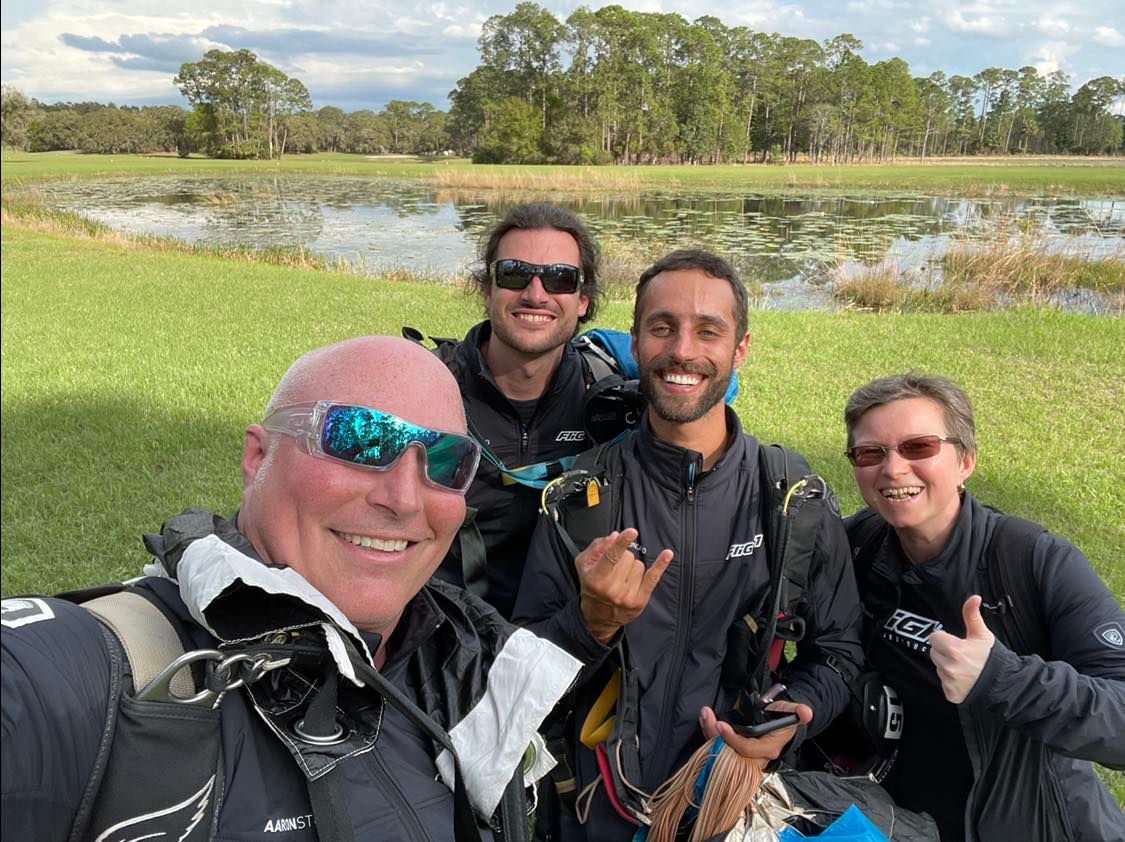 Credentials
Started Skydiving: 1995
Licenses/Ratings: D-22940, Coach, AFF-I, Pro
Total Skydives: 15,000+
Tandem: 5,000+
Instructor/Coaching: 3,000+
Camera: 2,500+
RW/FS: 1,000+
Freefly: 1,000+
Hop-n-Pops/Swooping: 2,000+
Wingsuit: 25+
Cutaways: 5 Sport, 6 Tandem
HISTORY/TEACHING EXPERIENCE
I "grew up" at a small Cessna dropzone called Cleveland Sport Parachute Center in Garretsville, OH (right in the middle of Amish country in northeast OH). After the first static line jump, I knew that skydiving was for me, but it took till my 3rd season to get to solo status and really started skydiving.
From the beginning, I was drawn to canopy flight. Swooping was just at its infancy and I watched as the best pilots on the DZ would hook and fly their small Stilettos across the landing area. There was no formal coaching at the time, but that didn't stop me. I learned the hard way and paid for it with pain and injury. I was lucky to make it through that period with an only a minor injury, learning that I needed to slow it down a bit.
Without a lot of money, working on the DZ was an easy decision. Packing at first, and, when I got the experience, I started doing video. As time and jumps accumulated, there was pressure on me to get other ratings so I took the BIC and the tandem course. At the completion, I asked the examiner to keep the paperwork but not to send it in. At 1000 jumps, I didn't feel ready for the rating, so I kept doing video and swooping.
In 2004, right before I moved to Z-Hills, I earned my Senior Rigger Certificate and Strong tandem rating. Working as a Rigger at Paragone Rigging for the first year at Z-Hills, I became an AFF instructor and added Vector and Sigma to my tandem rating. Wanting to utilize my ratings, I moved to PA for a season but ended up right back in Z-Hills where the action was at. I was offered a full-time Instructor position in 2006.
In 2007, I jumped into the competitive arena with my first swoop competition in Sebastian FL. I continued through the 2007 season attending all the FLCPA meets and placed in the top 10 for the season and 13th at the National meet in Longmont, CO.
While working as an instructor at Z-Hills, I was approached many times over the years for canopy coaching and advice by many patrons and students. Having taken Scott Miller's canopy course some time ago, I always recommended seeking out a structured course. When I started teaching structured courses, I sought out the best course I could find, Flight-1.
What advice would you give newer canopy pilots to help improve safety under canopy?
Put a lot of emphasis on pattern flight. Too many accidents involve an incorrect setup and a poor decision. Take the time to explore and understand all that the parachute you are jumping can do before increasing wing loading. Treat a canopy flight like a motorcycle drive... everyone is trying to kill you, never let your guard down, keep your head on a swivel, and be ready for anything. Seek out professional instruction.
Occupation
Occupation: Flight-1 Instructor, AFF-I, Camera, and Demonstration Jumper.
Hobbies: SCUBA diving, fishing, wake boarding, motorcycles, BASE, paragliding, speed flying, and aviation.
Gear
Main Canopy: Valkyrie 96/90
Container: Wings
Reserve Canopy: PDR 143/126
Helmet: Cookie G3, Bonehead Camera
Jumpsuit: Tony Suits
Altimeter: Alti-2 Atlas
CANOPY PROGRESSION
Triathlon 160
Sabre 150
Stilleto 135
Crossfire 99
Xaos 108
Xaos 98
Xaos 88
Velocity 96
Comp Velocity 90
Comp Velocity 103
Valkyrie 96
Valkyrie 90
Peregrine 79
Accomplishments